First iPhone 5 Part Surfaces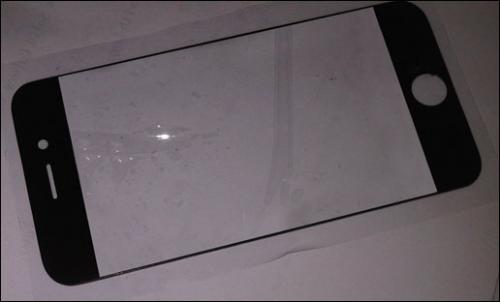 What you are looking at on the left may be the bezel that will be used on the face of the iPhone 5. The first obvious thing to note is how the bezel is thinner on the left and right sides. It also looks to be shorter on the top and bottom. A smaller bezel could only mean two things, right? Well, it could mean three, but I am not going that far.
The smaller bezel either indicates how Apple is looking to reduce the iPhone's overall footprint or that room is being made for a bigger display, coinciding with the many hot rumors. Without dimensions or an older iPhone bezel next to it, it could not be said for certain whether the bezel is made for a bigger screen. From what I can see and a quick comparison of photos, it looks to be the former; I would not say that in confidence, though. It would not make sense for Apple to simply reduce the iPhone's dimensions since there would be less internal space for a battery, so the latter is a more logical move.
Does this bezel suggest a smaller iPhone or one with a bigger screen? Do the cut-outs for the FaceTime camera, speaker, and home button indicate that the bezel is bigger or smaller than the iPhone we are used to?
[via iDealsChina]